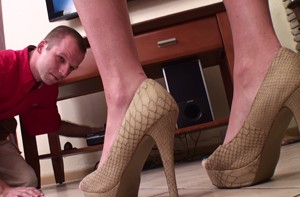 Mistress Tara was having trouble with her cable and called customer support to get someone to come out. They gave her the usual 5 hour window. She isn't going to sit by the phone waiting for them. They are always late anyway. So, she decided to lay by the pool, catch some sun and read a magazine.
She had resorted to the fact that she was probably getting the blow off from the cable company. Then some guy comes wondering into her back yard. She is very annoyed but would really like to get her cable fixed. It's been down for two days.
The cable guy has Mistress Tara hold the remote and attempt to power up the cable box while he checks the connections. He asks her to come closer and try again. Then has her come closer, and closer until her feet are inches from his face. She is still attempting to turn on the cable box and is getting very pissed. Then she looks down and his nose is inches from her feet.
She is going to teach this little pervert a lesson. He attempts to get up and she pushes him back to the floor. She is going to file a complaint to the office if he does lick the bottom of her shoes. He can't afford another report like this, so he begs her not to report him. He has no choice but to do what she says and start cleaning the bottoms of her heels.
She forces him on his back so that she can really wipe her feet on his tongue. She takes a picture with her cell phone of him tongue way out and her feet on his face, just for a little extra insurance. She better not have any more trouble with her cable.
wmv
1280*720
278 mb
6 min