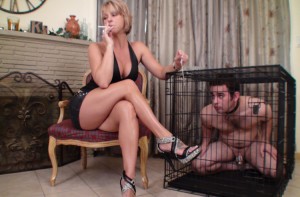 Goddess Brianna had been chased by an eager fan who was begging for a private session with her. All he could talk about was worshipping her feet and getting a footjob. He bragged on Twitter (@goddessbrianna1) repeatedly how he was going to get the opportunity to worship Goddess Brianna's feet and get a footjob.
When he arrived Brianna put him in chastity and locked him in the cage. Brianna was not amused by his presumptuousness and thought very seriously about not even letting him out of the cage for the entire hour. She dangled her heels just outside the locked cage where he could get a faint scent of her foot. She laughs as he sniffs out loud.
Brianna has no intention of letting him out of chastity, however she will amuse herself by forcing this eager foot bitch to lick the bottom of her shoes while she smokes a cigarette. In between licks she uses her foot to lift up the chastity device and reminds him how pathetic he is and that he is not worthy of release.
wmv
1280*720
355 mb
8 min