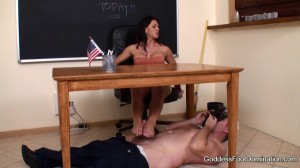 It's the end of the day and Leena's feet were tired from wearing heels all day. She took them off, leaving them on the floor next to her desk. She just had a few last papers to correct and she had to put them in the Principals mailbox. When she returned to her classroom the janitor had his cock out and he was fucking her shoes. She couldn't believe her eyes. She knew right away that the Principal needed to know about this pervert of a janitor. This school can't have a pervert like this lurking in the halls.
The janitor begged that she not tell the Principal as he stood there with his fully erect cock. He can't afford to lose his job. Leena knows that if he gets fired, this pervert would just end up at another school walking around the halls with his dick hard looking for some unsuspecting female student who left her shoes where he could get his grubby little paws on them. She needs to take matters into her own hands, or feet as this case might be.
Leena put the perverted janitor on the floor and milked his cock dry. Once she had milked him completely and his cock was soft again, she pulled out a chastity device from her desk drawer and locked up the perverted foot fetish janitor. This will keep his cock in check and the female student's shoes safe from this foot predator.
wmv
1280*720
326 mb
8 min
FemdomPortal.com FemdomPortal.com