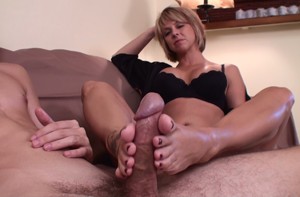 Blake has been friends with Goddess Brianna's son for several years and has been lucky to have had free rent for the summer. Brianna has certainly kept Blake busy around the house and on occasion using him for whatever she wants including worshiping her feet naked. She really enjoys it when he is naked and at her feet.
Mistress Brianna's son is on his way home and was calling to let her know that he will be there in 10 minutes or so. When she hangs up the phone she tells Blake he needs to get dress right away. When Blake stands up his cock is rock hard. She can't have her son coming home to find his best friend with a hard on. She needs to help him.
Brianna has Blake sit next to her on the couch and she milks his cock as quickly as she can. Her son will be home any minute now so this can't take long. She makes quick work to release Blake and forces him to clean up the mess before her son gets there.
wmv
1280*720
353 mb
8 min
FemdomPortal.com FemdomPortal.com