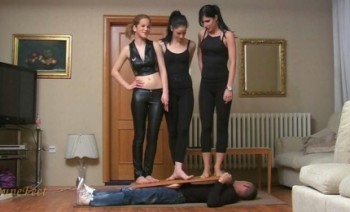 Girls on the board: Alice, Emily and Maggie have fun over the guy. They stand on the wooden board and make pressure on poor guy.
Pressure over the pillows: Trampling without touching. He just can feel the weight and pressure of their bodies. Alice, Emily and Maggie trample a guy over the pillows.
Do-Re-Mi: Three musicians Alice, Emily and Maggie play on human piano. On every girl's butt jump, poor boy moans a note.
Crazy trample: We know that our girls like to trample guys. Sometimes it can be pretty funny. Girls laugh and bounce on boy's stomach. Great video.
Room slaps: Guy is not in the mood. Girls slap his face but it's hurt him and makes him mad, more sad than angry. However, Alice is in the mood.
BabyMaggie: Alice and Emily trample little Maggie who is in diaper. Don't ask why, it's interesting to them.
Sit 'n' talk: Alice sits on Maggie's stomach and talks with Emily.
VIDEO: 856×480 at 30.000 fps, VC-1@ WMV3, 1885 Kbps
AUDIO: English (US) 44.1 KHz, WMA, 2 ch, 160 Kbps
FemdomPortal.com FemdomPortal.com FemdomPortal.com FemdomPortal.com
or