Let the dark force penetrate you.
A Jedi nervously walks down the dark stairs of a spaceship, sensing great evil. His worst fears are soon confirmed, as he encounters the new Dark Empress of the Sith. A battle ensues, but he is no match for the Empress, who defeats him with a force ball crush.
The leashed and bound Jedi is led to the Empress's interrogation chamber, where the neural table awaits. This table is set to match the neural energy of a victim, making them more susceptible to mind control and thought suggestions. The Empress is determined to find out the location of the rebel base and will use any means necessary to do so.
The Jedi is subjected to electrical torment through a butt plug, then must endure a hard metal dildo in his Ass, all while the Empress keeps using her mind control powers on him as well. But the force is strong with this one, who keeps resisting every effort to break him. The Empress makes him stare into a hypnotizing machine to further soften his mind up, then reveals her ultimate weapon - her strapon. As the Empress pounds her will into him, will our hero be able to resist her evil plans?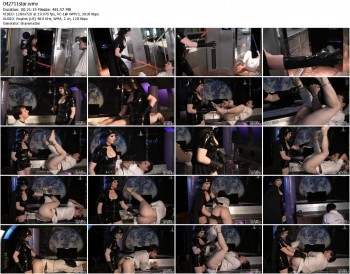 wmv
Duration: 00:21:19 Filesize: 481.57 MB
VIDEO: 1280×720 at 29.970 fps, VC-1@ WMV3, 3018 Kbps
AUDIO: English (US) 48.0 KHz, WMA, 2 ch, 128 Kbps
FemdomPortal.com FemdomPortal.com FemdomPortal.com FemdomPortal.com
or