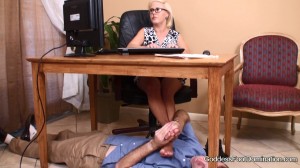 Mistress Grace is one of the founder /president of the company and she called to the file room to have a file brought to her from some documents a couple hours ago. Her time is very valuable so she doesn't like to wait when she asks for things like this. She calls down a second time to request the files. Finally, he arrives in her office the files she requested.
As soon as he enters the room he dumps the files all over the floor, right next to her feet. He drops to his knees to quickly pick up the now unorganized files, but once he was on the floor so close to her feet, he couldn't pull himself away from the scent of her feet. Grace couldn't help but notice he took a bit too long to get back up with the files. She knew exactly what he was doing down there and figured he might be better utilized if he were to just lay under her desk to give her a foot massage.
He's hesitant to get under her desk and massage her feet, but she is the owner of the company it's not in his best interest to go against her wishes. He lays down on the floor under her desk and she props her feet up on his chest and orders him to remove her shoes and start rubbing. He does exactly what she says. It doesn't take long before her foot finds its way down to his crotch and she realizes has an erection. She can't have any employees leaving her office with an erection. With his new position, under her desk she will need to keep this foot bitch in check or chastity.
She milks his cock until he releases all over her feet, forces him to clean the cum from her feet and then puts him in chastity. This way he can't get an erection the next time he comes to give her a foot massage. There is no need to give this employee a paycheck anymore.
wmv
1280*720
299 mb
7 min
FemdomPortal.com FemdomPortal.com

http://fetish-femdom.org/no-more-paychecks/";