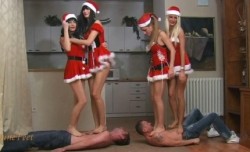 ALL GIRLS HAVE REAL FUN AND WISH YOU A MERRY CHRISTMAS AND A HAPPY NEW YEAR!! :)))
Clip 1: We know what was the bestsellers in 2011. Slaaaaps!!! First clip is in honor of you guys.
Hellen, Nina, Kim and Candy slap two human bags right in the faces.
Clip 2: Four girls and two human carpets. Girls trample them bare feet and investigate their voice abilities.
Clip 3: One of the most popular clips in 2011 was facestanding. Three gracias Hellen, Kim and Candy stands on new guy's face, in turn.
Clip 4: Four girls investigate the stomach muscles of the slave carpet. Every girl have fun on her own way. Pretty Nina is in the mood.
Clip 5: Men are the slaves, men are the rags, men are born to serve to women. Four beauties ride two human horses and mistreat them with their weight. Human pony crawl and carry over 110 kilos on his back.
CLip 6: The girls want to wish a welcome to a new slave. And hurt him so bad with their feet. The girls, led by cruel Hellen, start to beat up poor novice.
Clip 7: After the beating, girls have pitty on the novice slave. He is so happy to worship the feet of his goddeses. Candy's boyfriend is so jealous that she doesn't want to give her beautiful feet. And you will be jealous to have such pretty girlfriend.
Clip 8: Last part for this celebrate, girls must go on the real party. Just to take out the anger from themself and trample a little more their new slave.
VIDEO: 856×480 at 30.000 fps, VC-1@ WMV3, 1879 Kbps
AUDIO: English (US) 44.1 KHz, WMA, 2 ch, 160 Kbps
FemdomPortal.com FemdomPortal.com FemdomPortal.com FemdomPortal.com FemdomPortal.com FemdomPortal.com
or
FemdomPortal.com