Starring: Anna, Aurelie, Edwige, Rachel and Cucciolo.
4 sexy schoolgirls return from school in a great mood. They are now on holiday and have no more studying to worry about for a couple of weeks. They look stunning, in their mini skirts and high heels. Did schoolgirls really look like this good when we were at school? Maybe it's time to go back to college!
They all have a drink or two to celebrate and take great pleasure in throwing their school books on to the floor. Rachel even jumps up and down on hers in her sexy heels, to make her point. School work is a million miles away from her thoughts right now! Then back to the drinking…..
It really is hard to do this video justice with words alone. The girls look absolutely breathtaking as schoolgirls. The action and atmosphere is simply fantastic as the girls genuinely team up and really do enjoy humiliating and degrading Cucciolo.
THESE SCHOOLGIRLS ARE JUST SOOOOOO' NAUGHTY!!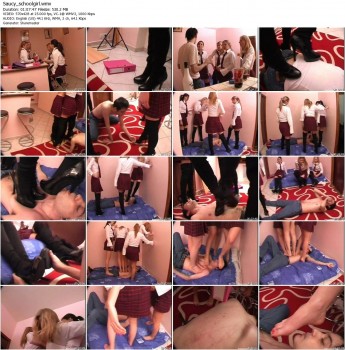 wmv
Duration: 01:07:47 Filesize: 530.2 MB
VIDEO: 570×428 at 25.000 fps, VC-1@ WMV3, 1000 Kbps
AUDIO: English (US) 44.1 KHz, WMA, 2 ch, 64.1 Kbps