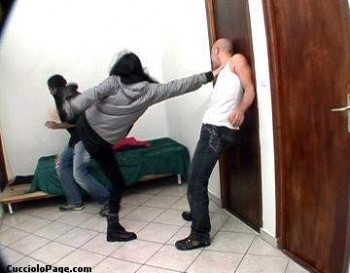 Starring : Riama, Jack and Cucciolo
In a sensitive and dangerous suburban zone of the town, a hooded girl is kicking a car door and she is trying to steal it. But when she is caught by the owner of that car, she reacts brutally and she beats him up violently. To punish the girl, the man calls his friend Jack, the block gang leader who arrives running with a Rottweiler on a leash and she pushes the girl who falls on the floor. The girl at this point goes ballistic and she massacres him as well with kicks, punches, slaps and she knocks him down with a stone. She pushed them in the car and she leaves to finish them off..
This video is not only a simple Femdom video, this is a non stop beating up and a real massacre. For the very first time on our site, one girl dominates, beats, tramples, torture and humiliate two men at the same time. Riama is so dramatically realist in her sadism and violence. Simply one of our most extreme videos ever!
Racaille.wmv
Duration: 00:57:50 Filesize: 440.77 MB
VIDEO: 570×428 at 25.000 fps, VC-1@ WMV3, 1000 Kbps
AUDIO: English (US) 48.0 KHz, WMA, 2 ch, 64.0 Kbps
http://femdomportal.com http://femdomportal.com