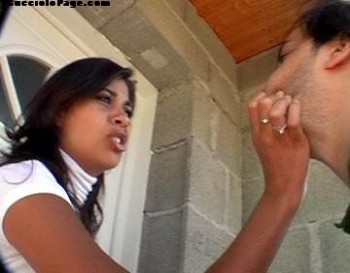 Starring : Nanie and Cucciolo
When, one year before, Nanie left her wicked professor inanimate on her bed, she toughs he was dead! She could never imagine that one day, she recognizes him walking down the street. She stops him and when she hears that he still practise his profession, she vents all her disgust and hate against him. At this point she has one and only idea in her mind : to be alone with him in her new house! Under her serious threats to be reported again and to loose definitively his job, he has no choice but to accept her dangerous invitation.
When he knocks at her door, he is quite worried but he is far to imagine what is really waiting for him! Dressed in a very sexy white outfit, she opens the door, she grabs him by the chin and she drags him on her garden. She sits on a chair and she orders him to lick and to suck every single inch of her shoes that are dirt of the soil of her garden. She takes one shoe in her hand and after passing the sole against his tongue several times, she forces him to kiss and to suck her feet.
Then, she orders him to stand up in front of her and she delivers a rain of terrific kicks and knees kicks right on his balls! Due to the unbearable strength of her shots he falls down and even on the ground she keeps kicking him on his ribs! She lights up a cigarettes and she uses him as her human astray throwing the ash inside his mouth and this is real crazyness she doesn't hesitate to put her cigarette out right on his tongue!!!!!!!!!! She keeps abusing the professor as she tries to smother him by sitting on his face that is crushed under her sexy arse. She hates him so much that she even spits on his face and inside his mouth. But the carnage is not over yet as she pushes him on the grounds and she tramples him wildly under her ultra sharp and deadly metal stilettos. She pushes his face against the ground and with all his face and mouth full of soil he is once again forced to lick her shoes and to make them shine with his tongue!
All this rage and violence have fatigued Nanie, so she decides to relax in her swimming pool having now a slave dog at her full service. While she is sunbathing on her air mattress, she orders him to serve her a cocktail and to lick her sexy feet while she drinks. But inadvertently, he makes her falls in the cold water! Pissed off, she tries to drown him by keeping his head several times underwater and to strangle him between her thighs always underwater. Even worst, she tramples him underwater and (as if it wasn't enough), she even stands on his throat and face leaving him half dead inside the pool!
Later, she keeps torturing him inside her house. Dressing a super sexy bikinis and thigh boots, she tramples him harshly under her lethal stilettos. It seems she becomes insane as she stomps and jumps on his chest like crazy, she digs her heels as deep as possible into his stomach and she crushes his throat and skull under her boots. Next, she uses her wonderful arse to sit several times on his face, she orders him to worship her boots and she spits in his mouth…
She drags him in her kitchen where she doesn't hesitate to whip his back with all her strength, to kick his ball and ribs with extreme violence, to squash his genitals by standing full weight on them, to force him to polish her boots with his tongue from the tip to the thigh, to trample him on the hard floor sinking her heels as deep as she can. Then, she rides him ordering him to gallop, she strangles him between her powerful thighs, she spits again on his face, she forces him to lick the floor she walks and finally she bounces him out with a terrific last kick right on his ball…
This is the sequel of the successful video "Revenge is a dish best served cold" that made the gorgeous Nanie very popular. In this video Nanie is out of this world, incredibly sexy, dominant, violent,outraging and extreme as she abuses Cucciolo merciless from the begin to the end! This is another FEMDOM MASTERPIECE you can't afford to miss!
Not_Dead_Yet.wmv
Duration: 00:57:21 Filesize: 436.36 MB
VIDEO: 570×428 at 25.000 fps, VC-1@ WMV3, 1000 Kbps
AUDIO: English (US) 48.0 KHz, WMA, 2 ch, 64.0 Kbps
FemdomPortal.com