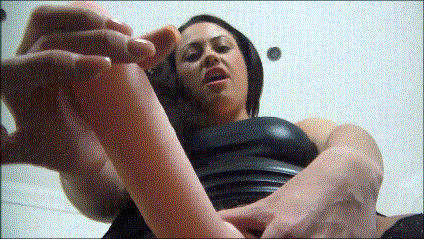 Hey Losers, sissies, wimps Young Mistress Kandi knows how she makes u feel, she knows u won't be able to kick your addiction for her? And just when u think your actually free and returning to normal… she will just dress herself up in tight PVC, stockings and knee high boots and tease and torment u with her sexy SUPERI0R Female assets, all just to draw u back into being under her control. Now, even if u're not sissies, not wimps, not pathetic or feeble and no matter how big u think your dick is…
Kandi's DICK IS ALWAYS BIGGER. Kandi will entice u into sucking down on her long hard shaft and deep throating her GREAT BIG C0CK, and the best bit about it is, u will love and worship her for treating u like pathetic SCUM. The thought both terrifies and excites you knowing she will dominate u.
"Can u imagine me squatting over your face and making u take this big cock nice and deep, Perhaps I should bend u over like the little bitch u are and make u take this in your tight virgin ass? Come on admit it you would love it…" Young Mistress Kandi knows this will just fuel your addiction and devotion to her, making u fall deeper and deeper under her control.
mp4
840*472
45 mb
7 min
Posted in: Domination ⋅ Tagged: Femdom, Glam Worship, Humiliation, Young Mistress