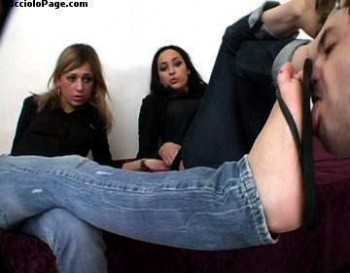 Starring : Angela, Sohana and Cucciolo
The drawer cheater makes another victim. The beautiful and statuesque Sohana, who wishes to have her portrait drawn by a real artist, couldn't imagine that behind the ads of "a renowned drawer", there was a thief, having troubles holding a pencil in his hands. Even if the naive girl feels ripped off, she is too shy to refuse to pay for her childish portrait. When in tears, she tells about her bad experience to her best friend Angela, the two discover that they have been victim of the same man.
But, while Angela reacted immediately, beating the shit out of him and not paying a cent, the candid Sohana has given a lot of money to the thief.
For all of you who love beautiful tall girls with big feet, joining their forces to stomp, to trample and to crush the shit out of an helpless man and for those who love real forced footworship action until you can see his lips and teeth bleeding, this video is definitively for you ! The one and only Angela, the gorgeous and sexy blonde bombshell everybody loves, is joined by an impressive newbie called Sohana, a majestic and imposing brunette of 177 cm and 42 shoe size. These two beauties use and abuse Cucciolo's face with and under their flip flops, from the beginning to the end of this video. A great movie !
Disfigured_2.wmv
Duration: 00:59:01 Filesize: 449.17 MB
VIDEO: 570×428 at 25.000 fps, VC-1@ WMV3, 1000 Kbps
AUDIO: English (US) 48.0 KHz, WMA, 2 ch, 64.0 Kbps
http://femdomportal.com http://femdomportal.com