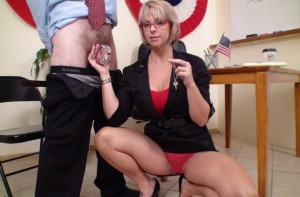 Brianna is hiring an elite team of lobbyists for the next campaign. Taylor thinks he has what it takes to succeed on Brianna's new team. She explains to him that there will be a lot of foot work and as an entry level member of the team he will be doing the bulk of the grunt work.
Taylors first mission is "Coffee". His first coffee run failed, Brianna sent him back again. When he returned from the coffee shop the second time, Brianna told him that he needed to go buy her new shoes for this afternoons speech. He runs out the door for the third time, heading for the mall.
When he returns Brianna is busy on the phone as usual. She orders him to put the shoes on her feet, but as he attempts to squeeze them onto her feet it becomes apparent that he purchased the wrong size. She finishes her phone call and decides it's time she has a heart to heart conversation with Taylor about his future on this campaign. She explains that he has fallen short of her expectations with both coffee and the shoes. Brianna isn't able to finish her discussion with Taylor and the phone rings again. She tells him to massage her feet, while she takes this phone call.
Taylor goes to work quickly on the foot rub, but it doesn't take long before his cock gets hard with her feet in his hands and on his lap. He attempts to adjust so that it's not so noticeable, but Brianna doesn't miss a thing. Once she finishes her phone conversation, she confronts Taylor about the inappropriate erection. She can't have any of her lobbyists walking around with an erection, it is very unprofessional.
Brianna has Taylor remove his pants and she milks his cock with her feet. Once his balls are drained completely, she locks him in chastity. This will keep him from embarrassing her throughout the campaign.
wmv
1280*720
460 mb
10 min
FemdomPortal.com FemdomPortal.com

http://fetish-femdom.org/goddess-briana-presidential-erection/";