Starring : Shona and Cucciolo
Cucciolo is a single man and decides this evening to use the services of an escort girl to have some fun. So later on he meets Shona a very sexy and beautiful brunette at his flat. The two start chatting and quite soon Shona notices he keeps looking at her feet so she asks him to remove her shoes and worship them with passion. She notices that while he is licking her feet his cock is getting hard so she decides to play with it. She takes off his clothes and starts to walk slowly and sweetly all over his body with her spiked heels. She also does it in barefeet crushing mostly his face, cock and balls under her FULL BODYWEIGHT. She enjoys also to take his breath away by sitting on his face, crushing it under her sexy arse!..
The great Shona, one of our most appreciated cock & ball crushers is as sexy as ever in this superb video in which pleasure and pain are constantly mixed during the whole shoot!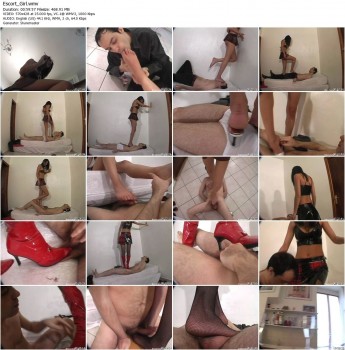 Escort_Girl.wmv
Duration: 00:59:57 Filesize: 468.91 MB
VIDEO: 570×428 at 25.000 fps, VC-1@ WMV3, 1000 Kbps
AUDIO: English (US) 44.1 KHz, WMA, 2 ch, 64.0 Kbps
FemdomPortal.com FemdomPortal.com FemdomPortal.com
or
FemdomPortal.com

http://fetish-femdom.org/cucciolo-escort-girl/";